MESQUITE TOPS LEE 21-7
It happened again. The question will have to remain for at least another year, will Lee ever get over that hump and win in the second round? Mesquite, who defeated Lee in the second round two years ago also, took advantage of four Lee turnovers to take the 21-7 victory. Lee's defense played an excellent game but the offense just couldn't get things going all day. It saw two promising drives end in interceptions and one end in a fumble. The Raiders had momentum early when the Skeeters attempted a field goal and John Ainsworth dove in front of it to block the kick. The Skeeters later missed another field goal in the second quarter. Mesquite put together the first scoring drive of the game which ended in 315 pound Marco Martin plowing in from 1 yard out with 31 seconds left in the first half. Mesquite was up 7-0 at halftime. On the opening kickoff of the second half Mesquite's Brandon Douglas ran the ball all the way back to give Mesquite a 14-0 lead just seconds into the third quarter. That was the play that changed the face of the game. Early in the fourth quarter Lee had a good drive going but the Skeeters forced a Matt Flynn fumble. They then went on a 4 minute drive that ended in a Mark Hodges touchdown giving Mesquite a 21-0 lead. The Raiders weren't going down without a fight though. Tyrone Ross capped of a late Lee drive with a 5 yard touchdown run with 3:08 left in the game to make the score 21-7 Mesquite. Lee was unable to recover the onside kick so that is how it ended. Keondra Smith finished as Lee's leading rusher with 11 carries for 70 yards. Ross wasn't far behind with 14 carries for 61 yards and a touchdown. Matt Flynn was 9-20 passing for 97 yards. Brad Bergfeld was the leading receiver with 5 catches for 53 yards. The Lee defense gave up 274 yards and 13 first downs. The Raiders finish the 2001 season with a 8-4 record.
LEE DEFEATS ATHENS 62-48
After losing their first game of the Burger King Classic to Whitehouse, the Red Raiders finished the tourny with style defeating the Athens Hornets 62-48 at Lee's Varsity Gym. Armein Kirkland led Lee in scoring with 19 points. Emerson Ates scored 10 points for Lee. The game was played pretty closely but Lee's ability to score points near the end of the period helped them pull off the 14 point victory. Lee's record improves to 3-1 with the win.
SITE UPDATED:11/25/01
*SPECIAL THANKS TO THE TYLER MORNING TELEGRAPH FOR PORTIONS OF INFORMATION FOUND ON THIS WEBSITE.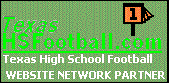 If you have any questions, comments, or suggestions please e-mail me at: